Sweat is available for pre-order now (today is the last day to use code LOVETOSWEAT for 20% off), and I am so thankful for the love and support. So much went into the making of the Sweat dvd and poster that I thought I'd take a minute here to share and reflect what I did, what I learned, and the bumps along the way.
The Poster
I wanted to create a poster because for me sometimes real-time is too fast to get all the details of a posture down. Sometimes it's just easier to look at a picture and read instructions on my own time and I thought maybe other people would feel the same. So I picked twelve popular tricky yoga poses. Then, I researched poster printing companies, chose a poster size keeping in mind turnover time and budget, placed my stick figure sketches on a blank paper the size of the poster to play with layout, and had a photo shoot. Then, I placed the pics on the layout and sent them off to the printing company. The proof looked good, so we proceeded and I wished for the best. A few weeks later, they arrived and they came out great!
DVD Content
The next step was to plan the dvd content and design the sequence. I wanted this sequence to be challenging, but accessible and useful to everyone from someone with just a few yoga classes under their belt to someone who has practiced for years, so the sequence had to have a lot of room for ways to modify and ways to increase level of difficulty that could be presented in a safe way. It was only going to be a 60 minute dvd which isn't a lot of time when you factor in the warm up and final savasana. I wanted to create content that would be the perfect balance of a physical, athletic practice that would leave you feeling calm and centered afterwards, so I needed the sequence to use the time wisely. It was a lot of writing sequence ideas down, trying them out, erasing, and trying again. This was definitely one of the most difficult parts of the process.
Hair, Make up, Clothes, Props
As evidenced by the pictures on this blog of my hair being either down (and tangled) or in a ponytail (and tangled) , you know that I haven't got the first clue on how to deal with hair. My friend suggested a sock bun, so I practiced the art of the sock bun (still not mastered, still feel totally awkward wearing a sock in my hair).
I knew the set would have crazy bright lights so I left make up to a pro. Patricia explained that the make up should be a little darker than usual because the lights tend to wash you out. She did a slightly darker take on a natural look.
For clothes, I picked black pants, a black sports bra (wearing blue in this pic but it was the day before to show a friend-review on the bra here) and a hot pink racerback shirt (reviewed here). I felt really comfortable in everything.

I decided against using props for the sequence because to me it's so annoying when you buy a dvd and then realize you need to buy a block, a bolster, a strap, blah blah blah. Certainly props are helpful but they aren't necessary to get through the dvd, so the only thing I brought on set was my yoga mat (review here). It's worth mentioning that I had to buy this one new because my old mat was green and apparently you can't wear or use anything green when you shoot against a green screen (who knew?).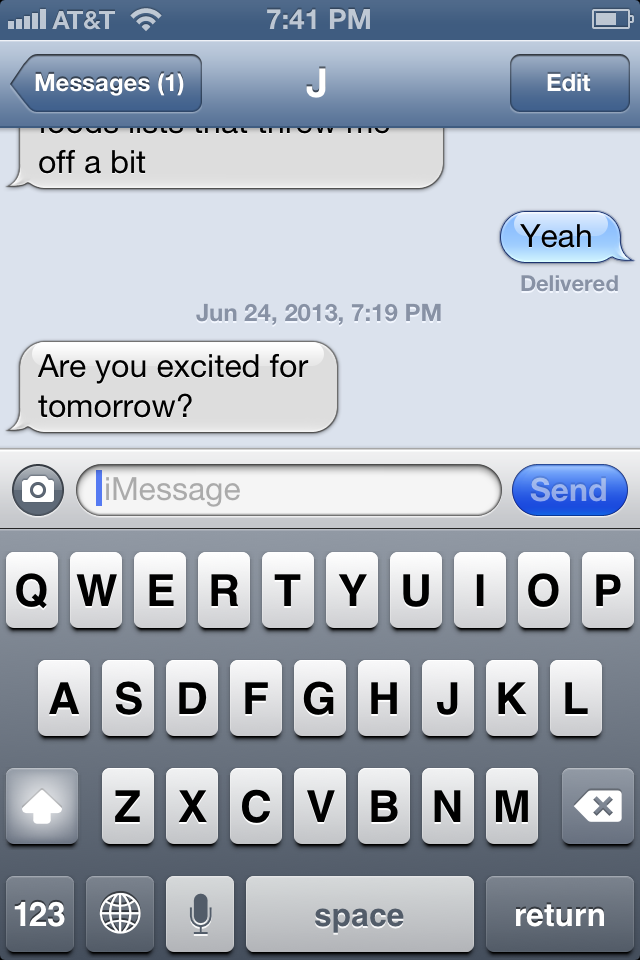 Filming!
Next came the fun part! I started the day with a sweet text from a friend, and then I was off to the studio. I was really nervous at first, especially when they were filming the beginning meditation where I'm just sitting there with my eyes closed trying to relax, but once the sequence started the nerves melted away. It took about two and a half hours to film, and I only had to redo two things (totally fell out of toe stand on my weak side!).
A few days later I received the raw footage of the dvd so I could write the voiceover script. This was the most challenging part of the whole process because the internet at our rental in Florida is so slow that my dvd would load and stop every 30 seconds. So I went to Starbucks where their internet connection was marginally better. It took me about 3 hours to write the script for the 60 minute dvd because of the poor internet connection. Woof.
Then I went back into the studio to read the voiceover, and make approvals for things like the intro, chapter markers, music selection, etc. This part was the best, as I'm used to doing voiceovers (I do them for my custom dvds), and the girl who was helping me choose music completely understood my taste and I think we picked some good tunes.
About a week later we received the master copy of the dvd and I talked Greg into trying it out. I wanted to see if my "Sweat" dvd would actually make him sweat. It did. He said it was a good workout (his exact words were "it crushed me") but he said he felt calm and relaxed afterwards- exactly what I was going for! I sent it off to the duplication house and it should be ready to ship in less than a week!
If you're interested, you can see the trailer for it here. Thank you so much for your support! xo